Manuscrits d'opéra - Opera manuscripts
Manoscritti dell''Opere serie - Opern Manuskripten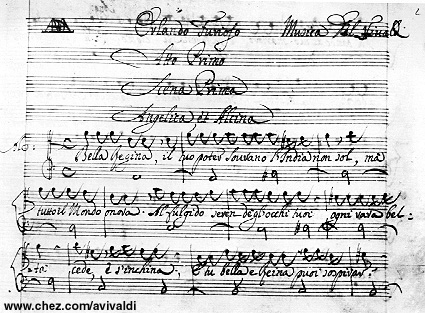 L' Orlando Furioso de 1727, chef d'oeuvre de mixité entre une version ancienne de 1714 revisitée en 1726.
Bien noter que l'opéra commence bien par un récitatif entre Angelica et Alcina "Bella regina, il tuo poter sovrano..." et non par l'air d'Orlando "Nel Profondo cieco mundo" comme a essayé de nous le faire gober Marylin Horne et Claudio Scimone.
The Orlando Furioso of 1727, masterpiece of mixity between an erlier vesrion dated 1714, revisited in 1726. Note that the opera is starting by a recitative between Angelica and Alcina Bella regina, il tuo poter sovrano..." and not by the aria of Orlando "Nel Profondo cieco mundo" as Marylin Horne and Claudio Scimone try to make us believe.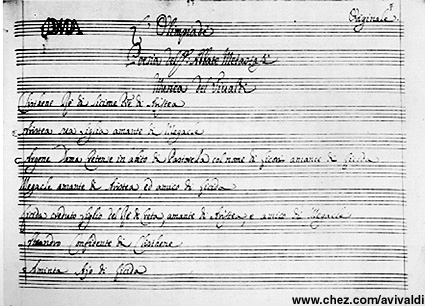 L'Olimpiade, LE chef d'oeuvre parmi les chefs d'oeuvres, dont même Vivaldi semblait attaché à l'originale.. (cf en haut à droite).
Noter aussi l'anagramme en haut à gauche.
L'Olimpiade, THE masterpiecr among the masterpieces, to which Vivaldi himself seems to be very attached to its manuscript (see top right corner).
Also note the anagram of Vivaldi on the upper left corner.