Manuscrits de musique instrumentale
Manuscripts of instrumental music
Manoscritti per la musiche stromentale
Manuskripten füer Instrumentalmusik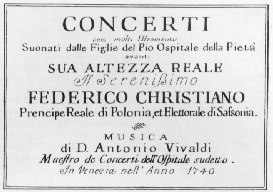 Le concert donné en 1740, en l'honneur de l'Electeur de Saxe à la Pietà par Vivaldi, juste avant le grand départ vers Vienne ou le compositeur mourra en 1741.
The concert given in1740, for the Elector of Saxony, at the Pietà by Vivaldi, right before the final trip to Vienna where the composer will died in 1741.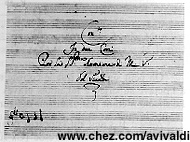 concerto à double choeur avec son énigmatique accord de départ....
concerto with double orchestra, with its enigmatic starting tuning...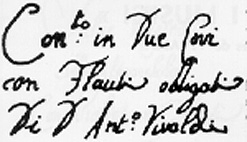 Incipits d'autres concertos à double choeur.
Incipits from other double orchestra concertos.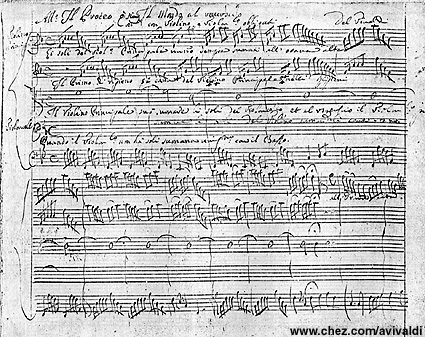 "Il Proteo ovvero il Mondo al rovversio" Protée ou le monde à l'envers : un des nombreux titres énigmatiques de Vivaldi qui s'explique
par une inversion possible entre le violon qui joue son registre bas et le violoncelle, son plus haut !!
"Il Proteo ovvero il Mondo al rovversio" Protea or the world upside down : one among many others enigmatic titles of Vivaldi, which can be explained by a possible inversion between the violin who is playing a low-tuned part, and the cello, its higher counterpart !!